Variable Frequency Converters for Industrial Applications
---

380V/690V series of variable frequency converters for industrial applications is the series of high-power frequency converter developed by our company to meet the demands of high-power industrial users faced with speed control of asynchronous motor, frequency conversion asynchronous motor, synchronous motor and permanent-magnet synchronous motor in the industrial fields. It adopts the "3-phase and 12-pulse wave rectification, 3-phase contravariant and filter technique", it has many advantages like mature technology, advanced performance, complete function, good quality, compact structure, low price, convenient use and good service, etc.

The 380V/690V series of variable frequency converters for industrial applications of CenteRole (Dalian) Electric Transmission Technology Co., Ltd. is designed and produced aimed at the maturity, stability, practical property and economical efficiency required by the high-power users. The transformer at the input side of this variable frequency converter and the 2 sets of rectifiers can realize the 12-pulse wave rectification, can weaken the effect of rectification for the quality of electric energy at the power grid side, and the content of harmonic contents input from the power grid side is sharply reduced compared with the common 6-pulse wave rectification. 2 power modules are equipped with this variable frequency converter, and the power module consists of diode rectifier and 3-phase PWM inverter. After the output of 2 power modules with the same structure and parameter is connected in parallel, the motor is driven by the sine wave filter. In addition, the primary side winding of the transformer of this variable frequency converter can adjust the input voltage of the rectifier through the star-triple conversion to adapt to the power supply of 690V and 380V. The output sine wave can be controlled by the by-pass switch, and the output can be selected to be sine wave or PWM wave based on actual demands.

Adopt the 12-pulse wave rectification scheme, effectively reduce the grid-side current harmonics, and guarantee the power quality index of grid side.

Adopt the IGBT with nominal voltage of 1700V and customized rupture disc capacitor, which are good for the operation safety and service life of equipment.

Adopt the customized annular heat pipe cooling solution, the efficiency of heat dissipation is high and safe and it is reliable.

The whole set of variable frequency converter consists of 1 variable frequency converter panel and 1 transformer, with a compact structure and small floor space.

Star-angle conversion can be conducted to the primary side of the transformer to adapt to the power supply of 690V or 380V.

Adopt sine wave filter with optimized design to make the contravariant output meet the requirement of standards.

Power modules are in common use and can be changed with each other, which is convenient for the maintenance of system.

Adopt the touch screen human-computer interface, which is convenient in use.

The system has perfect fault diagnosis, failure warning and fault protection functions.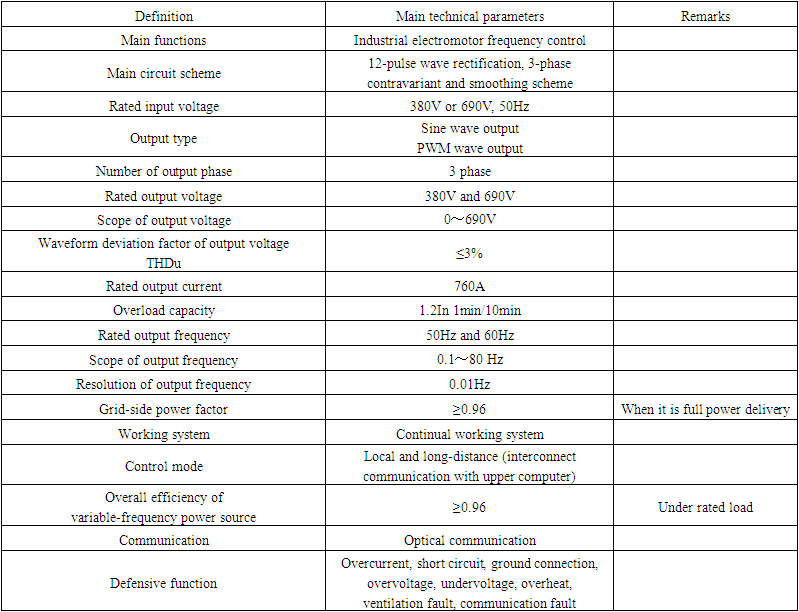 See the explanation for the company performance.
ADD: 98 East Tieshan Road, Dalian Economic